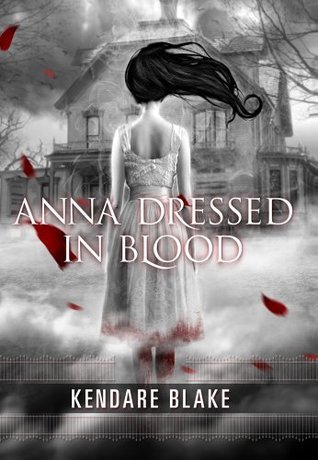 Rating: 3/5
Cas Lowood has inherited an unusual vocation: He kills the dead.
So did his father before him, until he was gruesomely murdered by a ghost he sought to kill. Now, armed with his father's mysterious and deadly athame, Cas travels the country with his kitchen-witch mother and their spirit-sniffing cat. They follow legends and local lore, destroy the murderous dead, and keep pesky things like the future and friends at bay.
Searching for a ghost the locals call Anna Dressed in Blood, Cas expects the usual: track, hunt, kill. What he finds instead is a girl entangled in curses and rage, a ghost like he's never faced before. She still wears the dress she wore on the day of her brutal murder in 1958: once white, now stained red and dripping with blood. Since her death, Anna has killed any and every person who has dared to step into the deserted Victorian she used to call home.
Yet she spares Cas's life.
Review:
Despite
Anna
's advertisement of a romance story between a ghost and ghost hunter, the main plot revolves around Cas's job and all the disturbing things he's seen. Much as I wanted to enjoy this, I simply couldn't really get into it.
As for the fear factor that this book gave me, I'd say that on a scale of tingles-down-my-spine to crapping-my-pants, I would place this somewhere in between. For the most part,
Anna
was very centered on the blood and gore that occurs throughout the book, from stabbing to dismemberment and all the little categories in between. It definitely succeeded in putting images in my mind that I definitely would not want to be thinking about in the dark (I had trouble sleeping last night. I thought there was a corpse under my bed.)
Romance-wise, this book disappointed me slightly. I guess I couldn't get over the fact that Anna had a pile of dead bodies in her basement. Not only that, but the buildup to the romance was pretty lacking. One second she was just a ghost, the next he had feelings for her. And then not five minutes later, they were willing to die for each other.
Cas, the main character, was overall a pretty likable character. He was flawed, but in a slightly insecure, realistic way. While I was pretty unimpressed by his ghost hunting skills (he usually flailed about for while before accomplishing anything), he was really passionate about what he did and it made him a pretty interesting person. Anna on the other hand, was pretty tragic the whole book. Her life
and
afterlife were both depressing. Around the end she acted more human, but I could never forget that underneath it all, she was wearing a dress dripping with blood.
The minor characters, Carmel and Thomas, were alright. They were good friends that stuck by him through the worst, although the side-romance that was building between them was so unlikely, yet predictable that it was hard to root for.
I'd recommend this to people who enjoy horror books, like if you've read Spirit Walk by Richie Tankersley Cusick. But keep in mind that this isn't for the faint hearted. It gets pretty gory up in there.
Rating: 3/5
By the way, I'm meeting Kendare Blake later this month at the National Book Festival! WOOHOO!